Tentatively named after its location, the Third and Dangler proposed affordable apartment community is a transformational development that will convert six County-owned lots into a vibrant transit-oriented development. The vacant site will be transformed into a 78 unit affordable housing development in the heart of East Los Angeles.
The site is conveniently located along the Metro Gold line between the Maravilla rail station and the East LA Civic Center rail station, connecting nearby residents to job opportunities in downtown Los Angeles and the San Gabriel Valley.
The new apartment home community will provide a mix of studios, 1-bedroom, 2-bedroom, and potentially three-bedroom units with a range of community amenities. The designs have been crafted and modified to fit the community it will be surrounded by including the installation of local art, an array of exterior landscaping, and vibrant paint colors that will allow the development to blend in with other uses along 3rd Street. The apartment home community will provide a community center, public plaza, public art, interior landscaped courtyard, onsite parking, onsite laundry facilities and a rooftop garden.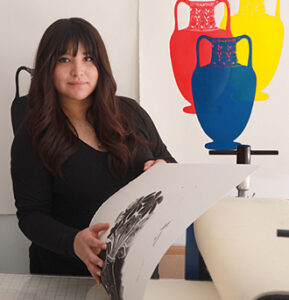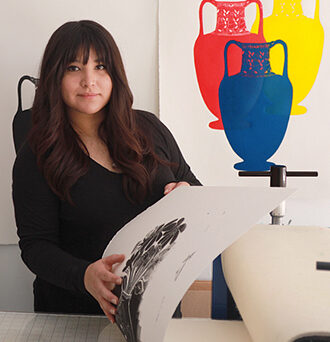 ABOUT THE ARTIST
Stephanie Mercado is a multidisciplinary artist and art administrator, born and raised in Boyle Heights in a family of artisans. She grew up spending time in her mother's fabric store, her grandfather's upholstery business, surrounded by seamstresses and creative workers. Her experience growing up around tradespeople introduced her to the tools, craft and strong work ethic that is necessary to survive in Los Angeles. 

As an administrator she is passionate about increasing access to art education for people of all ages and helping fellow artists. Her art work is multifaceted and includes painting, printmaking, textiles, video, and design. Her imagery is eclectic, inspired by lived experiences, cultural references, and the fusion of traditional printmaking with experimental practices. 
Stephanie received a Bachelor of Fine Arts degree in Drawing and Painting from California State University Long Beach. In 2021, she was awarded a community focused public art mural for the 3rd & Dangler affordable housing complex in East Los Angeles, by National CORE. In 2020 she was awarded a Metro poster commission for their Silver Linings Series and an artist residency at Tamarind Institute in Albuquerque, NM. She is a board member of the California Society of Printmakers, and a member of ArtTable, a national association for women in the arts. She has exhibited nationally and internationally including exhibitions in Norway, Italy, Spain and British Columbia. Her work can be found in the permanent collection of Metro Arts LA, the Mexic-Arte Museum in Austin, Texas, Tamarind Institute of Lithography's archives at the University of New Mexico, and the Zuckerman Museum of Art, Kennesaw, Georgia. 
National CORE is one of the nation's premier affordable housing developers, building award-winning communities and creating a platform for individual and community change. National CORE creates strong, healthy communities where residents can thrive. In partnership with the Hope through Housing Foundation, National CORE provides impactful resident programs and services to help children and teens achieve success, improve families' financial well-being, and promote senior health and wellness.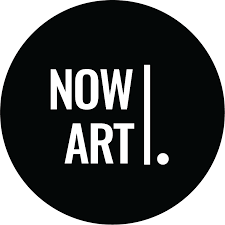 NOW Art is a 360° public art agency based in Los Angeles. We consult, curate and design contemporary public artworks and activations in local, national, and international markets. Our progressive approach draws on art, architecture, technology, and culture to establish innovative installations and high-profile landmarks.