CO-CREATING CULTURE, COMMUNITY, AND EMPOWERMENT THROUGH ART – A COLLABORATIVE MURAL BY LOS ANGELES ARTIST STEPHANIE MERCADO
East Los Love is a community-based public art mural commissioned by National CORE  for the 3rd & Dangler Affordable Housing Project, and managed by NOW Art LA. The mural will enliven the facade of the building upon completion in 2023.
The mural will be a vibrant painting inspired by Stephanie Mercado's printmaking-based collage work. The mural will include elements and images gathered from a community engagement process. 
Mercado was selected from a competitive group of over 53 local artists to craft a dynamic mural that will be engaging, attractive, and reflective of the unique cultural history and contemporary happenings of East Los Angeles. Read more …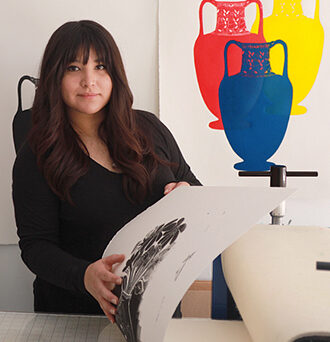 Stephanie Mercado is a multidisciplinary artist born and raised in Boyle Heights. Her recent body of work is printmaking-based and merges traditional media with experimental practices. She is also an art administrator passionate about increasing access to art education in Los Angeles for people of all ages.
To create a vibrant and eclectic mural that uplifts, empowers, and celebrates the surrounding community's cultural contributions.  Increase representation of East Los Angeles residents through public art, and inspire the viewer through cultural affirmation and an artistic experience.
VISION
To create a community-based collaborative mural that includes icons and symbols, cultural references, family photos, and oral histories from locals. This mural will reflect the community through direct engagement and inclusion, resulting in a collage-based artwork that highlights the diversity of East Los Angeles.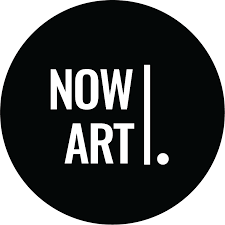 NOW Art is a 360° public art agency based in Los Angeles. We consult, curate and design contemporary public artworks and activations in local, national, and international markets. Our progressive approach draws on art, architecture, technology, and culture to establish innovative installations and high-profile landmarks.
Explore your creative potential and share your story, your photos, and what East Los Angeles means to you. There are many ways you can participate.
In addition to collecting photos and stories, the artist will be designing a series of coloring sheets with blank areas where you can add your drawings, photos, or notes. You are invited to co-create the mural with Stephanie through coloring sheets, or through sharing your photos and anecdotes through email and social media platforms. There are many ways to participate:
Co-Create Artist-led Workshops
Email your photos, completed coloring sheets, anecdotes, in honor/memory-of, or shout-outs to

[email protected]

Send your photos, completed coloring sheets, anecdotes, or shout-outs via social @eastlosluv on Facebook, Instagram, or Twitter
Coloring sheets can be downloaded from our Resources page or picked up at a series of public locations listed on the Community Engagement Page. Share the coloring activities with your children and email Stephanie their artwork.
Fill out the Google Form to submit images and content.
*Select coloring sheets, photos, and anecdotes may be chosen to be featured on the website and through social media platforms. Photos, anecdotes and media submitted does not guarantee inclusion in final mural design. Final design to be reviewed and approved by National CORE.
Deadline to submit photos is December 31, 2021.
Free themed coloring sheets for all ages with designated areas where you can respond to the theme and fill in the blank. 
East Los Luv coloring sheets are an homage to the cultural diversity of Los Angeles. Each sheet will have a theme that highlights the cultural contributions of residents and includes music, portraits, food, and more. Coloring sheets will have a blank space for you to add your experience, either through a drawing, a photo, or text. You are encouraged to Co-Create with Stephanie by downloading, coloring, collaging, or writing on the sheet.  You are encouraged to share your completed coloring sheets online and use the #Eastlosluv.